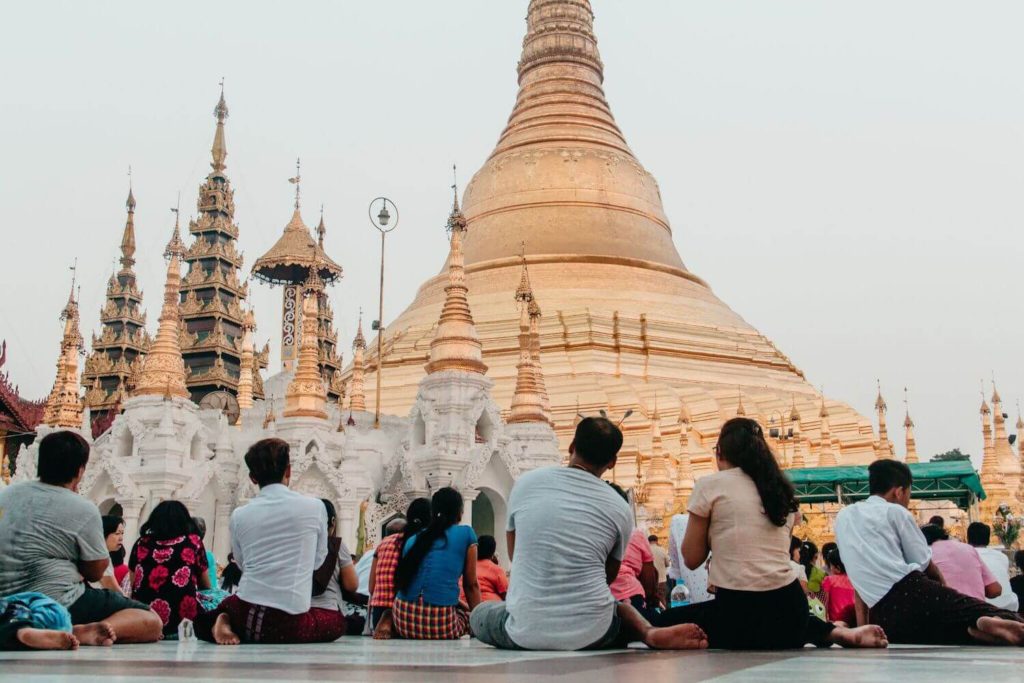 A short trip to Yangon , Myanmar in July left some memories and hopes. Before leaving for Yangon, I took time to read some literature about this city and a discussion with my twin who had visited here last July. Starting last year Southeast Asian nationals do not need to apply for a visa if they go to Myanmar for a period of 14 days. The visit to Myanmar was part of the process of exploring cooperation between the university where I worked with universities and schools in Myanmar.
The Asiana OZ 769 aircraft landed smoothly at Yangon International Airport at exactly midnight at that time. The air at that time reached 22 degrees Celsius. I and one of my colleagues from Japan immediately booked a Mercure hotel, in my opinion the Mercure hotel is the Hotel Yangon with the most complete facilities I have ever encountered in Myanmar.
Mr. Mo who arranged our program while in Myanmar was ready at the door of arrival. A Toyota Alphard approached us. We are a little stunned to see this. I then asked Mr. Mo about the price of cars and petrol here. According to him the price of a car is not too expensive because many cars here are used cars originating from Japan and Singapore. However, for gasoline is quite expensive for the standard of living of the people of Myanmar.
Mr. Mo himself is Korean Citizen. He is married to a Myanmar person. After retiring from his job in South Korea, Mr. Mo moved and settled in Myanmar. He established a business venture related to foreign investment in Myanmar. Consultancy companies like this are now growing rapidly here. After arriving at the hotel, we then rested to start our activities the next day.
Beautiful Yangon City
In the morning we began our activities in the city of Yangon. There is another sight that I can feel and see in the city of Yangon. The city is very green, neat, clean and organized. I just realized that in the city of Yangon there are no motorbikes. The community uses trains, taxis and buses as a means of transportation. The most common sight is that buses are always filled with passengers. Motorbikes only exist outside or in the suburbs.
Yangon City itself is the largest city in Myanmar and was the capital of Myanmar before being moved to Naypyidaw, which is 320 km from Yangon in 2006. Its population is approximately 8 million out of a total of 50 million residents. Most of them work in the informal sector. However, in the last two years the city has grown rapidly. Yangon City is the center of business in Myanmar.
Mr. Mo explained that after Myanmar was opened in two years many foreign countries invested here. Japan, China, Thailand and Korea are countries with very large investments. Because of the growing economy, property prices have become very expensive here. Don't be surprised if land or house prices in downtown Yangon can be more expensive than in Paris or New York at this time.
Tall buildings including hotels also began to mushroom here. Last year the number of tourists who came to reach 3 million. Insufficient number of rooms in the hotel. At the moment hotels are putting in quite high rates due to the lack of rooms. Star-rated hotels charge more than $ 150 per night. My colleague who happened to go here two years ago said that the price of staying at the same hotel rose 100%.
After this country opened up, there were indeed a lot of tourists who came here. The tourism potential here is also very promising. Besides Yangon, the places that are usually visited by tourists are Bagan and Mandalay. The number of tourists is also expected to continue to increase in line with the enactment of the ASEAN Economic Community in 2015 where free trade will begin in ASEAN countries.
On the first day our schedule was very tight because we had to visit several universities such as Yangon Institute of Economics, Yangon Technological University, and Yangon University of Foreign Languages. These universities are the best universities in the country. There are approximately 166 universities and all of them are under the government. University tuition fees are subsidized by the government and they only need to pay around $ 20 per year.
In Myanmar currently still using K-10 (10 years of study in primary and secondary schools). Then they proceed to Higher Education Diploma (two years) and to universities. It takes six years to study at the undergraduate level . This regulation will change starting this year and it is estimated that there will be many new private schools here this year. At present there are several private universities but they are not accredited by the Myanmar government.
The campuses in Myanmar are also very beautiful. Old buildings from England stand firm here. Myanmar itself was colonized by the British for more than 100 years and became independent in 1948. It is not surprising that the education system used here is the British education system. On the first day I learned more about the education system in Myanmar and got to know more about the city of Yangon.
There was something interesting when we visited several universities here. All officials wear gloves and sandals (not flip-flops) when welcoming us. Sarong and sandals turned out to be part of the procedure for the people of Myanmar in both official and informal activities. These gloves are also colorful. It's just that if you pay attention to the color is more calm and inconspicuous. Besides that, in every visit they always served one cup of tea, coffee and sweet bread.
The second day we took time to go to several international schools here. International schools are owned by several local entrepreneurs. Students studying there are mostly children of foreign nationals who work here. Foreign nationals usually work in international institutions or bodies. While businesses here are more dominated by business people from Asia such as Japan, China, and Korea. After finishing the school visit we visited Shwedagon Pagoda.
The Golden "Shwedagon" Pagoda
Many people say that Myanmar is a land of a thousand Pagodas. Everywhere we will easily find the Pagoda. Even because so many people say that it is no longer permissible to build a Pagoda in Myanmar. Most Myanmar people are Buddhist. However, there are also other religions such as Muslims. Generally they are in the northern border with India.
One of the Pagodas that became the country's icon is the Shwedagon Pagoda. The pagoda, which is approximately 99 meters high, is located on the Singuttara hill. Foreigners who enter need to pay 8,000 Kyats or around USD 8. The visitors are not allowed to wear shoes. The greatness and splendor of this Pagoda can already be felt when we are outside. A tall, golden building is clearly visible at the entrance.
When we got there it was already six o'clock in the afternoon. The weather was a little cloudy at that time. Hundreds of people, especially tourists, were already inside the Pagoda when we got inside. In addition, local people and Buddhist monks came to the pagoda to pray. According to legend, Shwedagon is the holiest and oldest pagoda in the entire world. Its age reaches 2,600 years.
I started down the Shwedagon Pagoda which turned out to be very wide. The Buddha statues in this pagoda are indeed very beautiful. Buddhist history and stories can be learned from the building here. Someone asked about my date of birth. This is because I can pray in front of the zodiac statue around the pagoda. At exactly seven o'clock the lights around the pagoda started to glow. These lights highlight these pagodas and make the atmosphere very beautiful.
Somehow I feel peace in this country. Myanmar, which is just open to the public, is very different from the countries in Southeast Asia that I have visited. Here internet access is very limited, people are not in a hurry and they are also attentive. In addition, at the tourist attractions, the merchants are also not pushy to offer their merchandise to visitors.
If we have always been treated to news about demonstrations and the military in the streets, I have not found them here. According to Mr. Mo used to be a lot of the military with weapons in the streets. In the last two years that thing has not existed anymore. This indicates that Myanmar is transitioning to become a democratic country. The general election itself is scheduled to take place at the end of 2015.
Visiting this pagoda also gave me positive energy, especially learning about differences and tolerance between religions. This is very important because in Myanmar itself there are many different ethnicities. Problems often arise because many people cannot appreciate differences. Not feel nearly two hours I spent here before returning to the inn.
On the last day in Myanmar I took time to enjoy lunch at The Thiripyitsaya Sky Bistro. This restaurant is located on the 20th floor in one of the buildings in downtown Yangon. Here we can enjoy panoramic views of the city of Yangon and see the beauty of Shwedagon Pagoda from afar. Lots of foreigners there. Besides enjoying Myanmar food they want to take photos from here.
Finally it was time to return to my home country. A short visit to Myanmar is not only impressive but also the country's development going forward. I am confident that Myanmar will become a developing economy in the next few years. Hopefully I can come back again and explore other cities in Myanmar.